Ice Melt & Rock Salt
We expect the winter to bring freezing temperatures and heavy snowfall. However, the cold seasons don't have to mean unsafe conditions for your family, visitors, or customers. Our premium ice melt and rock salt products prevent the slick conditions that often lead to wintertime falls and injuries.
With Salt Solutions, you can keep walkways safe and free of snow without the grueling process of shoveling or frequent plowing. We have a product to meet your every need—whether it's concrete-safe, easy on outdoor metal fixtures, or safe for pets.
Calcium Chloride
Fast Acting
Melts to -25° F
Magnesium Chloride
Safer for Pets
Melts to -15° F
Sodium Chloride
Rock Salt
Melts to +5°F
Blended Ice Melt
Varied strengths
Costs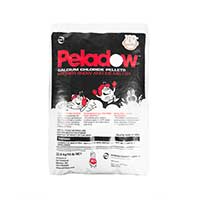 Peladow™
Calcium chloride pellets
Ideal for clearing sidewalks, driveways, and parking lots
Melts ice up to three times faster than competing materials
Outperforms other products across a wide range of temperatures
Melts to -25°F
Bag Size Available: 50 lbs.
Premier snow and ice melt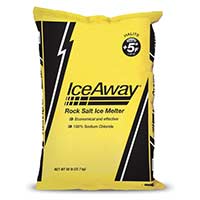 IceAway®
Sodium chloride rock salt
Economically clear sidewalks of snow and ice
Keep pavement clear of ice
Crystals are optimally sized for melting performance
Melts to 5°F
Bag Size Available: 50 lbs.
Cost-effective option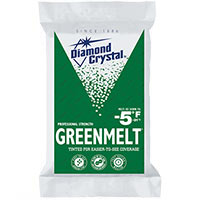 GreenMelt®
Contains a blend of sodium, calcium, and magnesium chlorides
Green-tinted for easy-to-see coverage
Faster, colder temperature melting than regular rock salt
Formulated to minimal to no staining when used as directed
Melts to -5°F
Bag Size Available: 50 lbs.
High-performance ice melt product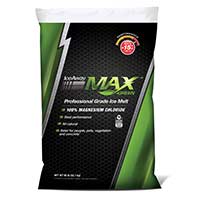 Ice-Away Max™
100% magnesium chloride
An environmentally friendly option
Safer for pets and concrete
Works on contact
Melts to -25°F
Bag Size Available: 50 lbs.
All-natural product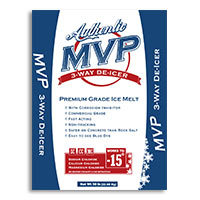 MVP 3-Way Deicer
Remove snow and ice
Blue dye makes accurate application easy day or night
Used for walkways, driveways, parking lots, and roads
Melts to -10°F
Bag Size Available: 50 lbs.
Proudly made in the USA